These Are The Songs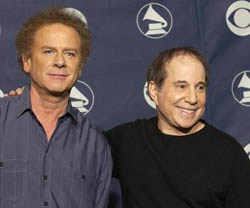 One of the most acclaimed folk-rock acts of the 1960s, Simon and Garfunkel recorded five albums together before breaking up in 1972 to follow separate paths. Though the duo has reunited briefly several times since then, most notably for a 1981 concert in Central Park, each performer has found a place for himself; Paul Simon become one of the most respected singer-songwriters of the '70s and '80s, and Art Garfunkel recorded intermittently through the years while pursuing a career in theater.Meanwhile, many songs from the Simon and Garfunkel era have become enduring classics of American music.
Paul Simon and Art Garfunkel met in a Forest Hills, NY high school during the late 1950s,and began performing together as Tom and Jerry, releasing a 1957 single called "Hey Schoolgirl" which was a minor hit. When they graduated, Garfunkel went to Columbia University to study mathematics, while Simon became a professional songwriter, going under the name Paul Kane. Simon occasionally recorded his own material, but mostly created songs for others.
In 1963 Simon and Garfunkel got together to record an album for CBS Records. A raw recording ofGospel tunes and Paul Simon originals, Wednesday Morning 3 A.M. did not sell well, and they each returned to their respective followings. In 1965 Simon traveled to England for inspiration, and began writing darker, poetic lyrics. While overseas, he began to try out these tunes at local pubs and soon began touring as a solo performer. Simon was invited to perform on the BBC, and hastily recorded several songs for Columbia Records. The resulting album, The Paul Simon Songbook, won praise from critics and sold moderately in the U.K.
While Simon was in England, New York producer Bob Johnston attempted to cash in on the growing folk rock trend by having Bob Dylan's studio band overdub accompaniment music for "The Sound of Silence" from Wednesday Morning, 3A.M.,and releasing a new version of the single with the backing band. The song became a radio hit,and Simon returned to New York to record new material with Art Garfunkel and a backup band. The new album, 1966's Sounds of Silence, was a critical and commercial success. Simon and Garfunkel spent some time on the road, without their studio band,before returning to the studio later that year to record Parsley, Sage, Rosemary, and Thyme. The new album cemented their image as intellectual folk singers, and caught the attention of Mike Nichols, who asked the duo to contribute new music for his forthcoming film, The Graduate. The pair recorded a rough versionof "Mrs. Robinson," as well as versions of older Simon and Garfunkel hits for the soundtrack, and when The Graduate became a smash hit in 1967, Simon and Garfunkel became international stars.
Their 1968 concept album Bookends was yet another artistic advance, and sold extremely well. But despite their success, Paul and Art began to squabble - Mike Nichols offered Art, an amateur actor, a role in his next film, which upset Paul, who felt their music should take priority. Following a tour later that year the group completed BridgeOver Troubled Water, which was released in 1970 without the political Paul Simon track "Cuba Si, Nixon No," which both Garfunkel and their record label,CBS, found distasteful. The album went on to win a Grammy for Best Album, but tensions continued between Simon and Garfunkel. Following a 1972 benefit show for the George McGovern campaign, the long-time friends agreed to part ways and pursue separate artistic directions.
During the 1970s Paul Simon released a string of highly successful solo albums;Garfunkel, while less successful, established himself as an entity in his own right.After Simon's 1980 solo album One Trick Pony flopped, the pair agreedto reunite as Simon and Garfunkel. Unfortunately, following a landmark 1981 free concert in Central Park for which they played to almost 500,000 fans, the duo began disagreeing over the content of their planned reunion album, Think Too Much. Garfunkel felt Simon's lyrics were toopersonal to be performed as a group, so once again the friends split apart, Simon recording the album on his own as Hearts and Bones. Over the next decade there were infrequent reunions of the pair for charity events and similar special circumstances, but Simon continued on as a solo artist, winning acclaim for his 1986 Graceland album, while Garfunkel devoted his time to walking across the U.S.A. In 1993 Simon and Garfunkel embarked on a brief reunion tour and then once again parted ways.They have come together and parted many times over the years, but, forever, The Legacy will live on.They came together at the 2003 Grammy awards,to recieve the Lifetime Achievement Award and they sang The Sound of Silence, fueling the rumour mill once more, that there would be another reunion, this is unlikely though. Yes, the magic was still there, it will always be so for many of us. Thank God.
A Very Special Night In 1967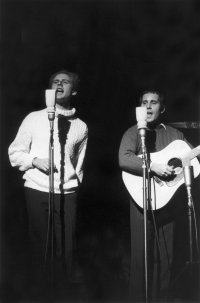 Paul Simon and Art Garfunkel took the stage and thrilled a full house with an acoustic set featuring their favorite songs and biggest hits. This intimate performace, with crystal-clear vocals and perfect harmonies, was a crowning moment in the New York City folk scene. It was a performance epitomizing an era that, for a variety of reasons, was about to disappear.
Simon & Garfunkel never released a live album when they were recording together, the Concert in Central Park came some years later as a result of one of the infrequent reunions.. Thirty-five years after this stunning sold-out performance at Lincoln Center, a near-flawless recording of that concert has been unearthed and will be released July 16 as Live From New York City, 1967. The quality of the recording is phenomenal, and both Paul Simon and Art Garfunkel have participated fully in every aspect of the release. The 19 selections include signature hits as well as exciting rarities, making this a set for everyone.
Further details on this historic recording, including the track listing will be found on the appropriate page
Song For The Asking
Here is my song for the asking
Ask me and I will play
So sweetly I'll make you smile
This is my tune for the taking
Take it, dont turn away
I've been waiting all my life
Thinking it over, I've been sad
Thinking it over, Id be more than glad
To change my ways for the asking
Ask me and I will play
All the love that I hold inside.

the music you heard
on the front page:
Bridge Over Troubled Water
from the album of the same name.
Simon and Garfunkel

Simon and Garfunkel
Websites
the extensive wikipedia entry
a mini-site off this one